The 2017 Retreat is now full...but because life happens, we do have a waiting list. Please let us know if you'd like to be added.

5th ANNUAL
​HORSEWOMEN BY GRACE RETREAT
​Nov. 9, 10, 11 & 12 2017
​V6 Ranch, Parkfield, CA




Introducing Our 2017 Speaker
Whitney Cartrite-Huckaby
Whitney, a wife, mother, author, & horse & cattlewoman, is a country girl who enjoys seeing the Word of God come to life through spending time with her horses. She does not consider herself an expert horseman, far from it. However, through the grace and favor of God, she has had the opportunity to share with many, what God has revealed to her in her book, A Broke Heart. To quote Whitney (from the back cover of her book) "To Me, horses resemble the Word of God in that they are active and living. New discoveries are waiting to be made every day. There is always more to learn because neither is robotic. Each offers a fresh inspiration that evokes us to change and grow. Both are a pillar of strength but have a softness and tenderness that demands our trust."
Whitney has two sons and has been married to her husband, James, for sixteen years. She juggles being a mom, continuing her education with God as a horsewoman and working on her family's Black Angus cattle ranch. She loves country life and the opportunity to raise her two sons on her family's century-old farm and ranch.


---
---
Information on Retreat Accommodations, Retreat Fees & V6 Ranch Horses for Lease


---
1) Camping- tent, camper, RV, horse trailer (sorry, no hookups available) bathrooms and showers available---$525

---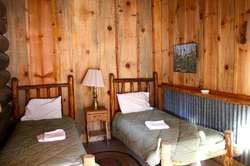 2) If camping isn't your thing, you may rent a room at the bunkhouse with showers and bathrooms adjacent...$650.50/double occupancy (5 rooms available)

---
---
3) Or if you like a little more "luxury" (private baths) you can rent a room at the Lodge...$757.50/double occupancy
​ $680.00/person/3 people/room

---
Above fees include-

-all meals (Thursday dinner, breakfast, lunch & dinner Friday & Saturday, & breakfast Sunday)
-water & snacks
-hors d'oeuvres & wine before dinner
-paddocks, with water, for horses (you can bring more than one horse)
-all retreat activities
-guided trail rides
-team sorting/cutting/roping at the arena with wranglers


DON'T HAVE A HORSE TO BRING?

The V6 ranch horses are available for rent.
Rental fee is $225 for the weekend.




---
In case rooms are not available,
Luv2Camp RV
, has travel trailers available for rent. For rental rates, delivery and set up costs, please contact them at 1-888-898-2267 or visit their website at
www.pasoroblesrvrentals.com